What's happening in Kennebunk this Weekend?
So you're traveling to the Kennebunks this weekend to enjoy a peak foliage fall getaway. If you haven't planned a full itinerary for your vacation yet, here are some things to do in the Kennebunk area. We'll make it easier for you. Don't forget to pick up a Tourist News too…
READ MORE
Halloween in Kennebunkport & KenneBoo!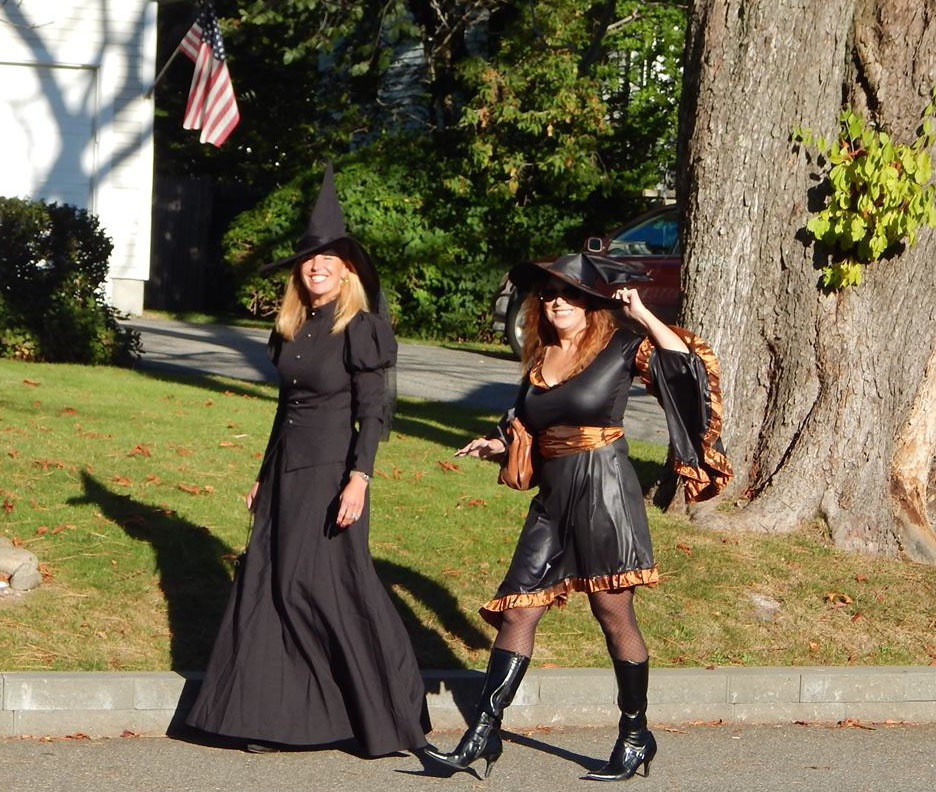 Halloween in Kennebunkport and Kennebunk is freakishly fun, for kids and for kids that never grew up. Just drive around town and see the crazy, scary, silly scarecrows  and pumpkins for a hint of how spirited the Kennebunks can be. You might even see some local "Sand-Witches" …wild women dressed in witchy attire pub crawling about The Kennebunks… a booh'sie tradition among the "desperate housewives of KPT". As for the best decorations, if you've never seen Kennebunk's Summer Street decorated in the dark on Hallow Eve, then you're in for a treat … and a trick or two. Local legends tell that many […]
READ MORE
Kennebunkport – September to Remember
What's the best month in Maine? We love September in Kennebunkport. Ok, so there's our favorite seaside town fully disclosed too. Here are out Top 10 Reasons to Come To Kennebunkport in September 1. September in Kennebunkport is the perfect blend of summer and fall. You can still enjoy beautiful summer-like days in September – with plenty of beach sand and space to yourself. The ocean remains relatively warm in temperature. You might even get an "Indian summer", can we say still say that? Its not P.C., politically correct, but it's a treat when you get 85 degree days in mid […]
READ MORE
Paddles Up – Kennebunkport's Paddle Battle
Put your paddles together for all the kayakers, canoers and SUP-ers. The 5th annual Nonantum Paddle Battle in Kennebunkport on August 6 was held under glorious sunshine – truly a  Sunday fun day on the Kennebunk River. Hundreds of kayaks, canoes, surfboards and SUPs graced the waterfront at The Nonantum Resort for a fun race up and down the Kennebunk River. This family fun event, The Paddle Battle, now in its 5th year, is hosted at The Nonantum Resort. Its expanded and grown by leaps and paddles since the first Nonantum Quest for the Cup canoe race back in 2008.  While the […]
READ MORE
Kennebunkport's Launch – a Floating Success!
Launch – a Maritime Festival is among the best fests in Maine, a celebration along the Kennebunk River. Its a wave of fun – five days of fishing, a boat parade, lobster bakes, fun runs of pirates and mermaids on the beach, Chef Competitions and much more. The nautical theme is the undercurrent to showcasing the Kennebunks' rich maritime heritage in this lively seaside community. #LaunchFestME – the third annual Launch 2018 will be June 13-17! 10 Things I love about Launch: 1. Launch is a grassroots, multi-town festival for locals by locals, stretching from KPort to Cape Porpoise, Arundel and downtown Kennebunk. 2. Its affordable and inclusive – perfectly […]
READ MORE
Memorial Day Parades in Kennebunk Kennebunkport
What could be more American than a Memorial Day parade in a small Maine town with firetrucks, boys scouts, twirlers, high school bands, and parade fans dressed in red white and blue? See Memorial Day Kennebunkport Photos How about having a former President and First lady in attendance. Here in Kennebunkport Maine, that's how we like to roll, along with our lobster rolls.  Picture local school kids and US military marching through Dock Square, a memorial wreath is tossed off the bridge into the Kennebunk River, and we remember those who served our beautiful nation, from this beautiful seaside setting. […]
READ MORE
Vinegar Hill- Kennebunkport's best music venue
Kennebunkport is so fun in summer time, with festivals, happy hours, live music and entertainment on every corner. On any easy breezy night, you will hear a band playing at the Pilot House, sharing a mic at Kport Inn's Local Dish, ensembles at The Nonantum's 95 Ocean, or music at Old Vines Wine Bar and the Colony's Marine Room. One of the best venues for live acts is Vinegar Hill Music Theatre  – a classic Maine music venue in the old Arundel Barn Playhouse. The name Vinegar Hill pays tribute to the history of this area in Arundel and the Smith Sister's Farm. This revamped barn is a  jazzier […]
READ MORE
Second Friday Art Walk in Kennebunk
Everyone in Maine has heard about the First Friday Art Walk in Portland. Galleries throughout downtown Portland and the Old Port open their doors, serve light snacks and encourage art lovers to browse their galleries in the early evening. Well, Kennebunk wants Art Lovers and amateurs alike to visit downtown Kennebunk and Kennebunkport on the 2nd Friday during prime summer to see the ever growing number of galleries in this beautiful Maine town, just a few miles from the more famous Kennebunkport. See more about the Village Art Walk on the 2nd Friday on the month in Kennebunkport and Kennebunk's […]
READ MORE
Kennebunkport is a renowned affluent enclave on the Southern Maine Coast made apparent by the residence of former US President and grand Victorian cottages. While our coastal town is a year-round vacation destination, summers flourish with tourism. Kicking off the summer season annually is the widely known, Kennebunkport Festival where art, wine and fine dining mingle for a week surrounded by live music performances, people and of course, the allure of Kennebunkport. It's the perfect time to spend a vacation in Kennebunkport!
READ MORE
Kennebunkport Paints the Town Red – February Events!
Kennebunkport Maine is a lovely seaside town to visit in all seasons. But there is something magical about this coastal Mane village around Valentines. Kennebunkport gets all decked out for February, as locals Paint the Town Red … you should come with your special someone… February is for Lovers in Kennebunkport and Kennebunk Maine! See why Kennebunkport is New England's most romantic town. Kennebunk and Kennebunkport innkeepers, restaurateurs and shop owners "Paint The Town Red" in February with sparkling red and white lights, heart shaped everything, red plates specials, and romantic lodging deals with Champagne, chocolates, spa treatments and lavish […]
READ MORE
Kennebunkport Christmas Prelude's Best Events!
Christmas Prelude in Kennebunkport, now in year 35, is such a magical time of year in Maine. Prelude is also busy, encompassing 11 days of events – spanning the first two weekends of December. As the seaside towns of Kennebunkport, Kennebunk and Cape Porpoise transform to a winter postcard of Christmas spirit, its impossible to partake in all the holiday happenings! See the complete 2016 Christmas Prelude schedule and Christmas Prelude Photos from years past. Here are our favorite Christmas Prelude Events: Christmas Champagne and Ale Reception at White Columns – Thursday Dec 1, 7-9 Sip Champagne cocktails at the beautiful 1853 Kennebunkport […]
READ MORE
"Vacation Like A President" "Mooseport" is fictional – the movie was filmed in Jackson's Point and Point Perry, Ontario, Canada – but it's obvious the storyline and setting were meant to mirror Kennebunkport, Maine, the small seafront village in which retired President George H.W. Bush spends the summers in his oceanfront home." – Forbes  AOL Ranks Kennebunkport Top 10 Beach Town "Kennebunkport, Maine – The old-time fishing village of Kennebunkport is like a Currier and Ives print come to life (it's also the summer retreat of choice for George H.W. Bush). You can work on a lobster boat, fly-fish, or kayak past whimsical […]
READ MORE
Kennebunkport has global attraction
Kennebunkport is the only place in the world so named… one of a kind and world-famous – attracting people from all over the globe. For three centuries, Kennebunkport has lured everyone from sea captains and sitting presidents to celebrities on swank yachts, and let's not forget – humble local fishermen. Today Kennebunkport is a hoppin' happenin' town, culturally deep with dining for every palate, attractions and lodging from quaint B&B's to grand historic hotels and chic spa resorts on the river. Kennebunkport at heart is a small Maine town, population under 4,000 with 10,000+ in neighboring Kennebunk, yet this compact seaside community is surprisingly worldly in its offerings. Here's […]
READ MORE
What is the Franciscan Monastery of Kennebunk?
If you've visited Kennebunkport, then you know the Kennebunk River serves as a centerpiece and focal point for this charming seaside destination. Yes, there are beautiful beaches in Kennebunk and Kennebunkport, but its the Kennebunk River that runs through both towns delineating the vibrant communities and shoreline on each side that is an equally important landmark of this famous Maine place. Kennebunkport's changing tide and scenery on the river out to the Breakwater is fascinating, with perhaps one of the prettiest spots on the River – The Franciscan Monastery. On the western side of the Kennebunk River, you see acres of undeveloped, uninterrupted shore […]
READ MORE
Kennebunkport Fest ~ Best Dressed
So another fabulous Kennebunkport Festival is now a Maine memory. This year's was no less success. The food, music and wine flowed along the Kennebunk River from cocktail soirees, to chef dinners, dance parties and grand tastings, just as it has for over a decade. So many fun fab people turn out for this social event of the season, kicking up their heels and kicking off summer in Kennebunkport. Once again the cuisine and entertainment were fantastic from start – at Old Vines Wine Bar to finish – the Grand Finale at David's KPT at the Boathouse. Kudos to the Maine Mag staff, Art Collector […]
READ MORE
A Kennebunkport Festival Dinner Party
What's it like hosting an Art of Dining event in your home during Kennebunkport Festival? In a word: amazing. Sitting at a big beautiful table surrounded by interesting people, enjoying a meal prepared by a pro chef in your own kitchen is something everyone should experience in a lifetime. When first approached to "host a dinner" during the Kennebunkport Festival by the Maine Magazine folks, I was flattered. Tickets to these grand dinner parties are a premium, so therefore expectations must be high. But then, I thought, I don't have to cook…so that's pretty cool. So Greg and I set about setting […]
READ MORE
What's new in Kennebunkport and Kennebunk
As summer season arrives on the seacoast, Kennebunkport becomes a buzz of activity. This 2015 season ushers in some exciting new things in KennebunkPort's Dock Square and Harbor Village, or Lower Village to some. There is a new kid on the block, on the dock actually. Have you seen the Spirit of Massachusetts docked in Kennebunk River harbor? This 125-foot schooner, Spirit of Massachusetts, arrived at her new homeport  this winter, pulled from Portland by the whale watch boat Nick's Chance. Dwight Raymond and his family, of the Pilot House, First Chance Whale Watch and Lobster Cruises, and Performance Marine, are restoring […]
READ MORE
Kennebunkport's Progressive Dinner Tour
Kennebunkport has so many great restaurants – its hard to hit them all – unless you get on board the Progressive Dinner party circuit. Several Sundays each year, you get to enjoying delicious stops at Kennebunk and Kennebunkport's top restaurants, with a DD for your scenic trip during your 3-hour tour, starting and ending at 95 Ocean at The Nonantum Resort. Our Progressive Dinner evening started at The Nonantum Resort where we met our new foodie friends over a glass of Champagne before boarding our private bus. First stop was Jillyanna's Woodfired Cooking School where Chef Jill welcomed us to […]
READ MORE