Village Art Walk ~ 2nd Friday in The Kennebunks

Kennebunkport and Kennebunk celebrate their flourishing art scene with a 2nd Friday Village Art Walk, with over 20 cool studios, galleries and artists in the Kennebunks – and you can visit them all in a fun social circuit on the Art Trail of the Kennebunks. Its like Portland Maine's 1st Friday Art Walk, only better – 'cause its in Kennebunkport! Kennebunkport has become a fantastic art vacation destination…we call it KennebunkArt! Village Art Walk of Kennebunk and Kennebunkport occurs the second Friday of the month, starting following the Kennebunkport Festival June 14, 2019,  July 12, August 9, September 13, and December 6 during Kennebunkport's Christmas Prelude. The Art Trail […]
READ MORE
Kennebunkport's Launch – Floating Success!
Launch – a Maritime Festival is a fun boating fest in Maine, a celebration along the Kennebunk River. Its a wave of fun – five days of fishing, a boat parade, lobster bakes, fun runs of pirates and mermaids on the beach, Chef Competitions and much more. The nautical theme is the undercurrent to showcasing the Kennebunks' rich maritime heritage in this lively seaside community. #LaunchFestME – originally launched in 2016 is typically mid-June Launch 2020 is cancelled for Covid! Stay tuned on Launch 2021… 10 Things I love about Launch:1. Launch is a grassroots, multi-town festival for locals by locals, stretching from KPort to Cape Porpoise, Arundel […]
READ MORE
Kennebunkport Festival – Who's Who and What's Where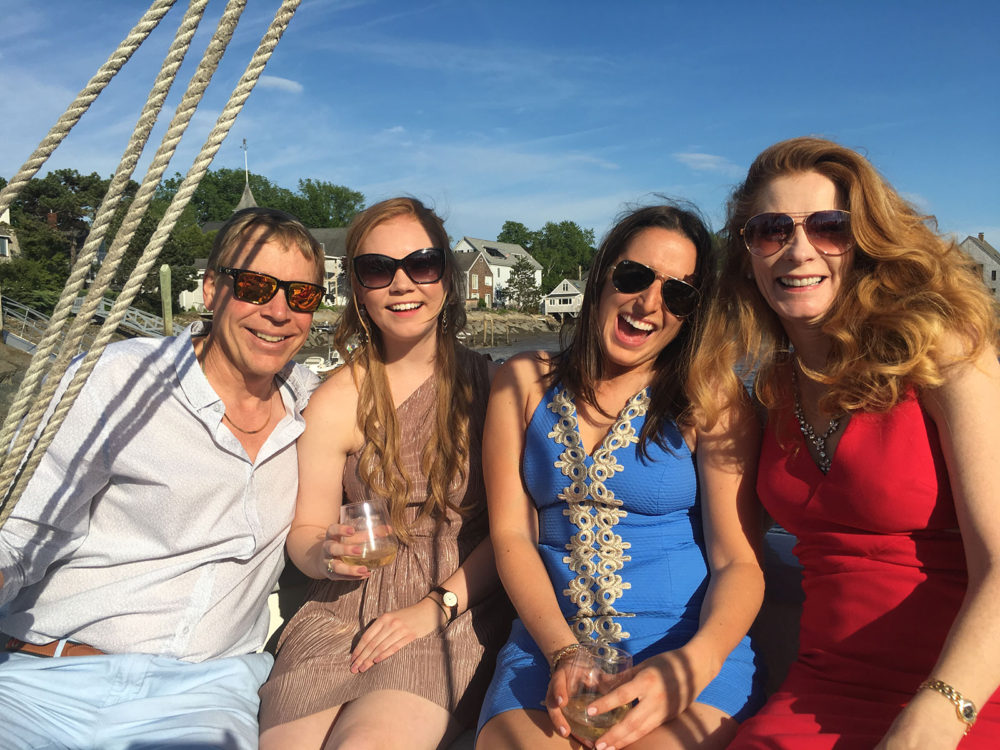 The 15th Annual Kennebunkport Festival  was June 3-9, 2019…. totally re-invented thanks to a group of local business owners and community members. Its fantastic to see the Kport Fest as a local celebration again! The Kennebunkport Festival for over a decade has been a seaside celebration  loaded with events revolving around eating, drinking, admiring art and socializing in this 1653 charming seaside setting. The Festival events range from cocktail parties to exclusive Chef dinners at private mansions on the beach and Ocean Ave, to parties at Old Vines Wine Bar, Stripers at The Breakwater, The Colony, The Kennebunkport Inn, Vinegar Hill […]
READ MORE
Kennebunkport Fest ~ Best Dressed
So another fabulous Kennebunkport Festival is upon us. Over a decade as fundraising success, and attracting folks from away to share in the beauty of the Kennebunks. The art, food, music and wine flow along the Kennebunk River from cocktail soirees, to chef dinners, dance parties and grand tastings. So many fun fab people turn out for this social event of the season, kicking up their heels and kicking off summer in Kennebunkport. The cuisine, art and entertainment of the community are the focus from start – a big mid week party at Old Vines Wine Bar to finish – to the […]
READ MORE
Kennebunkport Festival – Over a Decade of Food, Wine, Dine, Fun!
Ocean views, cocktails, art, brews and tunes, served at the finest homes in Kennebunkport – those are ingredients to the best food & wine festival in Maine. Now in its 15th year, the Kennebunkport Festival is the first week of June in Kennebunk and Kennebunkport, June 3-9, 2019. If you love food, wine, art and drinking in the ocean views, you will love this fest. Originally called the Fine Food Wine and Art Festival, it is now called the Kennebunkport Festival – and its once again fun by locals for locals, as it was originated in 2004!
READ MORE
White Columns Bush Family Exhibit
Kennebunkport's Bush Family Legacy White Columns Exhibit   Walkers' Point is one of the most popular sites in Kennebunkport, the summer home to the Bush family. As you drive out Ocean Avenue past St Anne's church where the Bush family goes to church, by Blowing Cave and Spouting Rock, you are led to the spectacular peninsula where President George H W Bush, and his wife Barbara, spent every summer with their family from mid May to mid October each year. The people of Kennebunkport love the Bush family, affectionately referencing the two Bush presidents as 41, and 43 – President […]
READ MORE
What is the Franciscan Monastery of Kennebunk?
If you've visited Kennebunkport, then you know the Kennebunk River serves as a centerpiece and focal point for this charming seaside destination. Yes, there are beautiful beaches in Kennebunk and Kennebunkport, but its the Kennebunk River that runs through both towns delineating the vibrant communities and shoreline on each side that is an equally important landmark of this famous Maine place. Kennebunkport's changing tide and scenery on the river out to the Breakwater is fascinating, with perhaps the most serene and beautiful spots on the River – The Franciscan Monastery. On the western side of the Kennebunk River, you see acres of undeveloped, uninterrupted […]
READ MORE
Best Dressed at Kennebunkport Fest
The Kennebunkport Festival is all about fabulous food, wine and art, which pours out in generous portions in early June. This seaside setting is and always has been… a party town. This Maine foodie fest is the culmination of all things #KPT (K-kennebunkport P-party T- town) and a perfect kick off to summer. But aside from the magical Maine setting and culinary extravaganza, there is an undeniable undercurrent of fashion that flows through the week at each elegant seaside Chef's dinner, cocktail soiree and dance party on the River. 2018 marked a new Kennebunkport Festival, as locals managed this fun […]
READ MORE
Walking Tours of Kennebunk
The Kennebunks are small seaside towns, Kennebunkport, Kennebunk and Cape Porpoise. with a population of about 14,000. Even witthe the summer popularity as a resort town, you won't be stuck in traffic for hours, you can feel safe walking at night, you can see the stars at dusk, and you can take a breath of fresh air. Yet despite being rather small towns, Kennebunk and Kennebunkport can have a fun festive vibrant atmosphere, therer's always something happpening….
READ MORE
Second Friday Art Walk in Kennebunk
Everyone in Maine has heard about the First Friday Art Walk in Portland. Galleries throughout downtown Portland and the Old Port open their doors, serve light snacks and encourage art lovers to browse their galleries in the early evening. Well, Kennebunk wants Art Lovers and amateurs alike to visit downtown Kennebunk and Kennebunkport on the 2nd Friday during prime summer to see the ever growing number of galleries in this beautiful Maine town, just a few miles from the more famous Kennebunkport. See more about the Village Art Walk on the 2nd Friday on the month in Kennebunkport and Kennebunk's […]
READ MORE
Fall festivals in the Kennebunks
If you don't already love The Kennebunks, you will shore-ly fall for our seaside community in fall! See our Fall photos out and about Kennebunk, Kennebunkport, Lower Village and Cape Porpoise. First, there's the perfect temperatures and beautiful foliage. The beach walks are brilliant, and the sales in the Dock Square shops, art galleries and boutiques of Dock Square and downtown Kennebunk are also worth falling for. Kennebunk Farmers Market is open every Saturday from 8am – 1pm. This fresh outdoor farmers market goes on all summer, spring and fall but its best during harvest time when local farmers have a […]
READ MORE
Kennebunkport Fashion at The Festival
The Kennebunkport Festival is an annual Maine event of fine food, wine, art and music is among the best parties in Maine, certainly Kennebunkport – with Christmas Prelude perhaps being a close rival. As I reflect on the week-long festivities, I keep recalling the fashions. The outfits, the outpouring of bright colors and beautiful people – and not just on the ladies, the men brought their best dress to the fest. All week Kennebunkport's festival goers dressed in vibrant ensembles – couples were color-coordinated, dinner guests matched their menu themes, everyone had their attire A-Game on. I have never seen […]
READ MORE
Kennebunkport Festival – Art of Dining
There is an art to dining. Food is our substance but it is also social – a time to gather, share and savor the tastes from our gardens, farms and oceans. The Kennebunkport Festival is all about the celebration of fine food and wine, enjoyed in beautiful settings, complimented by art, music and conversation. In its 15th year, June 4-9, 2019, the Kennebunkport Festival brings together top chefs, proud homeowners, foodies, locals, and talented artists – to enjoy the bounty of creative cuisine in good company. Our Wednesday night's Fest was the perfect summer evening in Maine… magical…starting with a […]
READ MORE
A Kennebunkport Festival Dinner Party
What's it like hosting an Art of Dining event in your home during Kennebunkport Festival? In a word: amazing. Sitting at a big beautiful table surrounded by interesting people, enjoying a meal prepared by a pro chef in your own kitchen is something everyone should experience in a lifetime. When first asked to "host a dinner" during the Kennebunkport Festival, I was flattered. Tickets to these grand dinner parties set high expectations. But then, I thought, I don't have to cook…so that's pretty cool. So Greg and I set about setting a table, a big square to accommodate all sixteen guests in […]
READ MORE
Kennebunkport's Progressive Dinner Tour
Kennebunkport has so many great restaurants – its hard to hit them all – unless you get on board the Progressive Dinner party circuit. Several Sundays each year, you get to enjoying delicious stops at Kennebunk and Kennebunkport's top restaurants, with a DD for your scenic trip during your 3-hour tour, starting and ending at 95 Ocean at The Nonantum Resort. Our Progressive Dinner evening started at The Nonantum Resort where we met our new foodie friends over a glass of Champagne before boarding our private bus. First stop was Jillyanna's Woodfired Cooking School where Chef Jill welcomed us to […]
READ MORE
Kennebunkport is on Everyone's Top Places List
Kennebunkport is feeling the love, from local people to past presidents to the press – everyone is putting K'port in their top 10. This quaint Maine town has had its brush with fame before – back in the 1920's and 30's Kennebunkport was "the place to summer" at one of the grand hotels – The Colony, The Breakwater or The Nonantum. US Presidents love to spend their summers here too- Walkers Point on Ocean Avenue was the summer White House while George H W Bush was in office. Theh Bush Family summer on the seaside peninsula, Jeb and George W […]
READ MORE
Winter Recreation in Kennebunkport
Winter vacation in Maine, you may think of skiing and snowboarding at Sunday River or Sugarloaf, ice skating in Portland at Deering Oaks, or snowshoeing and cross-country skiing in the vast wilderness of Maine. Kennebunkport is a witner wonderland from December to March, with nearby cross coutnry skiing, ice skating in Kennebunk, snowshoeing, beach walks by the glimmering blue sea, and best of all – great lodging rates during Kennebunkport's "off-season" at cozy BnBs and spa hotels.
READ MORE
Welcome to the Port News Blog!
We are excited to report the premiere of our Port News blog. Kennebunkport is a world renowned town in Maine celebrated for its prime seaside location with beautiful stretches of beach, wildlife reservations, and marinas, near rocky coastline dotted with historic lighthouses. Annual vacationers of Kennebunk might find a secluded rental home to enjoy or a luxury resort with a swimming pool, hot tub and dining. There is much to "sea" and do in Kennebunkport! Allow us to provide an example of an ideal Kennebunkport, Maine vacation itinerary:

READ MORE