Don't assume that the Maine coast turns to ghost towns after summer. Be a savvy traveler and come to Kennebunkport in the "off season" and you will love it for all new reasons!  Kennebunkport Maine's "off-season" could be our best kept secret as it's really Vacationland… or "staycation" without the crowd! Just fun locals and the best deals… Our Kennebunkport blog offers ideas on romantic places to stay, popular events, Kennebunkport best beaches and tours, but today, we're going to talk about how to have fun like a local all year round
READ MORE
What to do in a Kennebunkport weekend?
Kennebunkport is my home….I'm proud to say – the place of Presidents and cool people – an address so unique it's the only place in the world so named. Friends from away ask me, "what I should do in a Kennebunkport weekend?" Here is my perfect weekend in Kennebunkport! First stay on the water. You didn't come all this way to be inland. Stay at Seaside Inn, right on Kennebunk Beach, or Breakwater Inn and Spa and the Boathouse Waterfront Hotel both have great locations on the river. Or Captain Lord Mansion is a super romantic B&B. Inn at English Meadows […]
READ MORE
Kennebunkport's Road Less Traveled
So many top spots in Kennebunk and Kennebunkport, the "must be seen" from Dock Square to Walker's Point, the beautiful beaches and out to sea. But this is a guide to the hidden gems, off the beaten path, the road less traveled in the Kport, the Bunks, Cape P and Arundel. Add these cool outings to your Kennebunkport Bucket List… for a fun diversion and excursion… Pull a Lobster Boat Trap Do not miss a ride aboard on The Rugosa with Captain Bob. This 1.5 hour tour will take you past Walkers Point, pull a few lobster traps and maybe […]
READ MORE
10 Best Places for a Cocktail – Kennebunkport and Kennebunk
Kennebunkport has a cocktail consumption reputation, labeled "a drinking village with a fishing problem," where the well-healed are well-fueled, Kennedrunkport, Kenneboozeport, lol, I could go on. Suffice it to say the locals and folks from away like their cocktails out & about Dock Square, and liquorin' up in Lower Village across the bridge. K'port may be Maine's most socially lubed seaside village. What a distinctive drinking title?! Truly Kennebunkport and Kennebunk have so many lively happy hours, bars, pubs, and waterfront decks where you can drink in the view and a cocktail too. Here's your guide to some of the […]
READ MORE
Paint the Town Red with Romance in Kennebunkport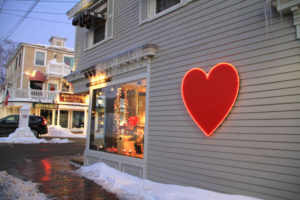 Here's a romantic little secret… Kennebunkport and Kennebunk is for lovers in winter. This seaside resort town is perfect for couples in search of a romantic retreat when Kennebunkport "Paints the Town Red" as part of its February is for Lovers. Bring your sweet heart for seaside beach walks, horse-drawn carriage rides, an Ice Bar cocktails party, cocktail classes, boutiques sales, cozy fireplaces, four poster beds at local inns, ocean view hot tubs, and seaside dining for two. The town of Kennebunkport celebrates February in style with a "Paint the Town Red" party atmosphere – with romantic lodging packages, cocktails and chocolate tasting, red lights décor throughout Dock Square and cozy […]
READ MORE
Kennebunkport Christmas Prelude's Best Events!
Christmas Prelude in Kennebunkport,  in year 39 – Dec 3-13, 2020, is such a magical time of year in Maine. Prelude is also busy, encompassing 11 days of events – spanning the first two weekends of December. As the seaside towns of Kennebunkport, Kennebunk and Cape Porpoise transform to a winter postcard of Christmas spirit, its impossible to partake in all the holiday happenings! See the complete Christmas Prelude schedule and Christmas Prelude Photos from year's past. Here are our favorite Christmas Prelude Events: Christmas Reception at White Columns – Thursday Dec 3 – 7pm Sip Champagne cocktails at the beautiful 1853 Kennebunkport […]
READ MORE
The holidays in Kennebunkport Maine
I truly believe the best part of the holidays is in the anticipation. Decorating, shopping, attending Christmas festival and reminiscing on family gatherings of the past. One of the best gifts you can give yourself around the holidays is a Maine getaway, between Thanksgiving and Christmas slip away. I can think of no more festive place than Kennebunkport Maine just before the holidays. This delightful seaside town really decks the halls and does a magical pre-Christmas celebration, called Christmas Prelude each year, a tradition for over 30 years! Visiting Kennebunkport in November and early December, you get to partake in […]
READ MORE
Halloween in Kennebunkport!
Halloween in Kennebunkport and Kennebunk is freakishly fun, for kids and for kids-that-never-grew-up. Just drive around town and see the crazy, scary, silly scarecrows  and pumpkins for a hint of how spirited the Kennebunks can be. You might even see some local "Sand Witches of The Kennebunks" wicked fun women dressed in witchy attire pub crawling about The Kennebunks… a booh'sie tradition among the "desperate housewives of KPT". Don't worry these are Good Witches, who do Good Deeds locally all year round. As for the best decorations, if you've never seen Kennebunk's Summer Street decorated in the dark on old Hallow Eve, then you're […]
READ MORE
Kennebunkport has global attraction
Kennebunkport is the only place in the world so named… one of a kind and world-famous – attracting people from all over the globe. For three centuries, Kennebunkport has lured everyone from sea captains and sitting presidents to celebrities on swank yachts, and let's not forget – humble local fishermen. Today Kennebunkport is a hoppin' happenin' town, culturally deep with dining for every palate, attractions and lodging from quaint B&B's to grand historic hotels and chic spa resorts on the river. Kennebunkport at heart is a small Maine town, population under 4,000 with 10,000+ in neighboring Kennebunk, yet this compact seaside community is surprisingly worldly in its offerings. Here's […]
READ MORE
Restaurant Favorites in Kennebunkport

While the Maine Coast is most poluar in summer, the real seaside beauty of Kennebunkport extends to the fall, winter, and spring – the "off-season." Those that fall (lol) for the charm of Kennebunkport's coastal charm in quieter times, take advantage of the affordable rates at luxury hotels, inns and BnBs, and off season dining deals and happy hours, and more. Many Kennebunkport restaurants  remain open year round, no lines or waiting, walk in and enjoy with the locals. Here, a list of personal favorite restaurants in Kennebunkport.
READ MORE
Paddles Up – Kennebunkport's Paddle Battle
Put your paddles together for all the kayakers, canoers and SUP-ers. The 7th annual Nonantum Paddle Battle in Kennebunkport is on August 11, 2019 – truly a  Sunday fun day on the Kennebunk River. Hundreds of kayaks, canoes, surfboards and SUPs grace the waterfront at The Nonantum Resort for a fun race up and down the Kennebunk River, 11:30- 3:30pm. This family fun event, The Paddle Battle, now in its 6th year, is hosted at The Nonantum Resort. Its expanded and grown by leaps and paddles since the first Nonantum Quest for the Cup canoe race back in 2008.  While the […]
READ MORE
Memorial Day Parades in Kennebunk Kennebunkport
What could be more American than a Memorial Day parade in a small Maine town with firetrucks, boys scouts, twirlers, high school bands, and parade fans dressed in red white and blue? See Memorial Day Kennebunkport Photos Here in Kennebunkport Maine, that's how we like to roll, along with our lobster rolls.  Picture local school kids and US military marching through Dock Square, a memorial wreath is tossed off the bridge into the Kennebunk River, and we remember those who served our beautiful nation, from this beautiful seaside setting. And yes, President George H W Bush (#41 as we call […]
READ MORE
Vinegar Hill- Kennebunkport's best music venue
Kennebunkport is so fun in summer time, with festivals, happy hours, live music and entertainment on every corner. On any easy breezy night, you will hear a band playing at the Pilot House, sharing a mic at Kport Inn's Burleigh – Local Dish, ensembles at The Nonantum's 95 Ocean, or music at Old Vines Wine Bar and the Colony's Marine Room. Vinegar Hill is a fantastic event center and a beautiful rustic Wedding Venue too. Its one of the best venues for performances,  Vinegar Hill Music Theatre – with it casual format, and a classic Maine music stage in the old Arundel Barn Playhouse. The name Vinegar […]
READ MORE
Kennebunkport Happy Hours & Drink Deals!
Crossing the Mat Lanigan Bridge that links Kennebunk's Lower Village to Kennebunkport's Dock Square you are met with a myriad of great waterfront restaurants serving cocktails, food and fun. Check out these fun Happy Hour deals and Dining Deals in Dock Square and Lower Village Kennebunk, both sides of the bridge… in Kennebunkport & Kennebunk! Sunday Funday Alisson's – great Sunday dinner specials Boathouse Bar – Happy Hour all day at the Bar Stripers Waterside Restaurant at the Breakwater – Sunday Brunch and Bloody Mary & Momosa Specials Pearl & Spat Oyster Bar  Happy Hour 5-6, Oysters, $5 Beer & Wine specials Hurricane – Bloody Mary's Monday […]
READ MORE
What's new in Kennebunkport and Kennebunk
Kennebunkport is a buzz of activity. Every season ushers in some exciting new things in KennebunkPort's Dock Square and Harbor Village, or Lower Village to some. The Lost Fire in Cape Porpoise is the latest dish cooked up by Chef German Luccareli of Ports of Italy, this restaurant on Route 9 serves wood fired Patagonia style barbeque in a cozy atmosphere, created by this talented Argentinian chef. The cool decor, cozy nooks and lively bar are almost as delish as the dishes. Mabel's Lobster Claw is under new ownership. Stay tuned to see if this classic remains the same or […]
READ MORE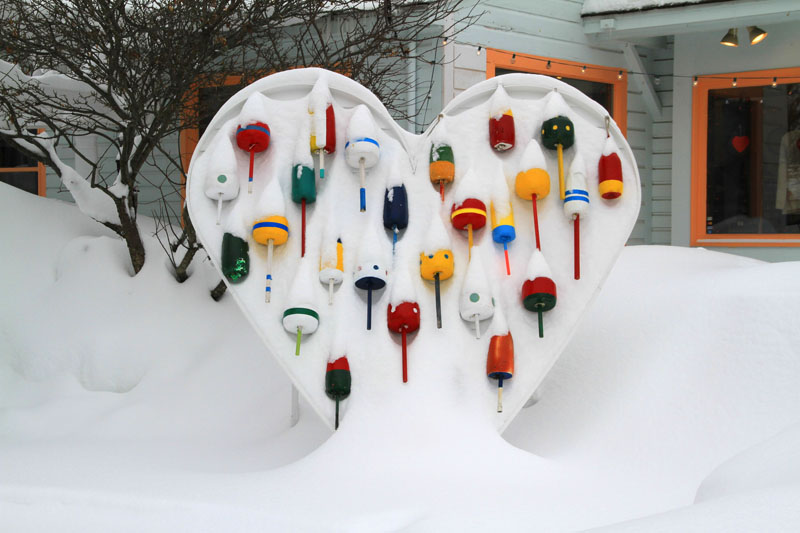 Hey all you lovebirds! Valentines Day is a magical time in Kennebunkport, when locals "Paint the Town Red". You should treat your sweetheart to for V Day in KPT. In Kennebunkport, "February is for Lovers". Lovebirds flock to Kennebunkport every year for a romantic getaway. Our coastal Maine village has managed to turn the coldest month of the year into a time of romantic winter retreat. Of course, the colder it gets, the more reason to snuggle up with your sweetheart.
READ MORE
Best Place to Stay in Kennebunkport
People come from all over the world to stay in Kennebunkport. This classic seaside village exemplifies "the way life should be." With miles of beautiful coastline to explore, several sandy and scenic beaches, a lighthouse, pretty fishing villages, plus sophisticated boutique shopping, art galleries and top restaurants, the BIG Question is: where to stay in Kennebunkport? Kennebunkport has every lodging imaginable for a small East Coast town, grand waterfront hotels and historic bed and breakfasts, beachfront inns, and family resorts, chic spa hotels, and waterfront suites. Here's our guide to finding the best place to stay in K'port or Kennebunk Beach: […]

READ MORE

"Sea" what others are saying about kennebunkport… here's soem news you can use and names you can trust in planning your  Kport getaway today! Kennebunkport listed as one of "The 12 Best Weekend Getaways" – U.S. News & World Report "Vacation Like A President" in Kennebunkport- USA Today "Mooseport" is fictional – the movie was filmed in  Ontario – but it's obvious the storyline and setting  mirror Kennebunkport, Maine, the small seafront village in which retired President George H.W. Bush spends the summers in his oceanfront home." – Forbes "LOVE KPT…Kennebunkport is THE best seaside town in Maine, in every season, […]

READ MORE