Kennebunkport Maine
February is for Lovers - Painting New Englands most Romantic Town Red!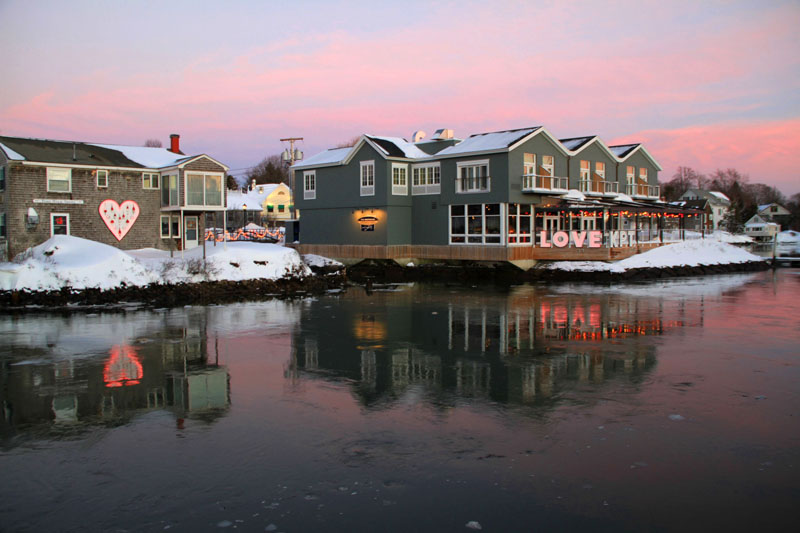 Special February is for Lovers and Paint the Town Red Packages available at:
Rhumb Line Resort l Seaside Inn l Captain Lord Mansion l Breakwater Inn and Spa l The Boathouse Waterfront Hotel
Images of Kennebunkport in February
Romance Marches on... February Romance and Paint The Town Red have been so successful that most area businesses are extending their romance packages and Red Tag sales and specials thru March 15th. So if a snow storm made your Feb travel plans challenging... no worries, come visit the Kennebunks before March 15th for the great savings and romantic happenings!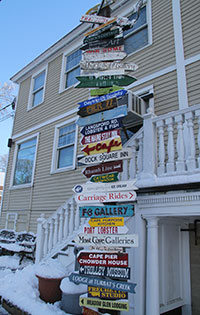 February in the Kennebunks – Locals and Lovers Paint the Town Red
What could be more romantic and relaxing than escaping for a weekend away, brisk beach walks, drives along Ocean Ave capturing photos of the breaking waves at Walkers Point, and an overnight retreat. Enjoy gourmet food, quiet times and the warmth of a romantic fire at a cozy inn or Bed and Breakfast like the Captain Lord Mansion. The Seaside Inn even has a warm bubbly outdoor hot tub, open year round with a view of the ocean for their guests. The Rhumb Line Resort has an indoor pool and hot tub, plus an outdoor hot tub, a special treat when surrounded by snow. The Breakwater Inn and Boathouse Hotel offer dining and spa packages with river views.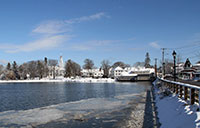 Kennebunk and Kennebunkport offer the perfect winter destination, you get off-season pricing at the best lodging properties with a bonus of romantic gestures. February is for Lovers in Kennebunkport – for years local innkeepers, restauranteurs and shopkeepers have celebrated February as a time for romance and celebrating love.

Special events during the month of February in Kennebunkport include horse drawn carriage rides through Dock Square, romantic candlelight dinner specials, and romance packages at inns including Champagne, chocolates and roses delivered to your room upon request. Spa treatments are available too - in you room or at one of the local Kennebunkport Spas.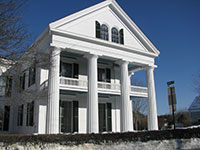 Art galleries and boutiques throughout Kennebunkport and Kennebunk decorate their store fronts, "Painting the Town Red" with red hearts and twinkling red and white lights to welcome couples. Chocolate tastings and wine and cheese parties at local galleries are on-going throughout the month. An Ice Bar at One Dock, The Kennebunk Chocolate Extravaganza, and Skating Party in Kennebunk are a few February highlights. In the sprit of "Painting the Port Red" shops offer "red tag" specials and participating Kennebunkport and Kennebunk restaurants feature "red plate" lunch and dinner specials.

From the decorations to the deals at many beautiful waterfront lodging properties, and of course the warm hospitality everywhere in town, it's easy to see why Kennebunkport Maine is one of the most romantic seaside destinations in Maine, and New England, and the world. Besides beach walks, there is nearby ice skating, sledding and cross country skiing for romantic outdoor adventure in the Kennebunks in winter.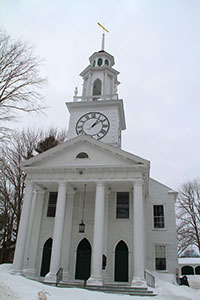 For romantic lodging in Kennebunk, The Seaside Inn, located directly on Kennebunk Beach, has winter packages with homemade breakfast, deluxe ocean view rooms, and dinner at a local restaurant. For a classic Bed and Breakfast in Kennebunkport, the Captain Lord Mansion oozes old fashioned charm in a regal setting with inclusive packages catered for the ultimate couple retreat. The Breakwater Inn and Spa overlooking the Kennebunk River has Pamper Me Package with spa treatments on site included. The Rhumb Line Resort offers affordable lodging packages with breakfast and dining certificates included, plus indoor and outdoor hot tub, and an indoor pool. The Boathouse Waterfront Hotel has a "Five Shades of Red" package - just perfect for a Valentine's getaway to Kennebunkport.

Kennebunk and Kennebunkport February For Lovers - Paint the Town Red 2015 Events

Saturday, January 31, 2015 Paint the Town Red Lighting Ceremony – area businesses turn on the red lights tonight for a beautiful scene around the seaside town.

Friday, Feb 6, 2015 Winterfest Skating Party - Waterhouse Center Pavilion, Main St, Kennebunk. 4-8pm.

Fri and Sat, February 6 - 7, 2015 Winterfest in Kennebunk - Winter carnival activities, skating party with DJ, snow sculptures, soup tasting contest, and talent show. Hosted by the Town of Kennebunk. Plus sledding at White Columns and an Ice Bar at One Dock in Kennebunkport.

Fri, Feb 13, 2015- Family Valentine's Dance, held at the Kennebunk Town Hall Auditorium

Sat, Feb 28, 2015 Snow Day at Wells Reserve at Laudholm Farm - Snowshoe races, sledding, bonfire with hot chocolate and more.

February TBD: Kennebunk's Annual Chocolate Extravaganze is the Maine event for Chocolate Lovers. Imagine a day devoted to chocolate?! The Kennebunks Chocolate Extravaganza is held at the Kennebunk Town Hall - bring your sweet tooth and your sweetie! This annual event started in 2001 and proudly continues with free admission for everyone. Past Chocolate creations have included the biggest chocolate lobster, a lighthouse made entirely of chocolate and a chocolate sand castle. The Kennebunk Chocolate Festival is for all ages, everyone receives chocolate giveaways, the most delicious winter event in Maine.

See you in the beautiful seaside village of Kennebunkport this February. Come see why this is Maine's most romantic town. Bring your loved one, we will provide the local flavor and seaside festivities. Be ready to Paint the Town Red as a Maine lobster.

Events extended until March 15th!
Images of Kennebunkport in February l Kennebunkport Maine Winter Images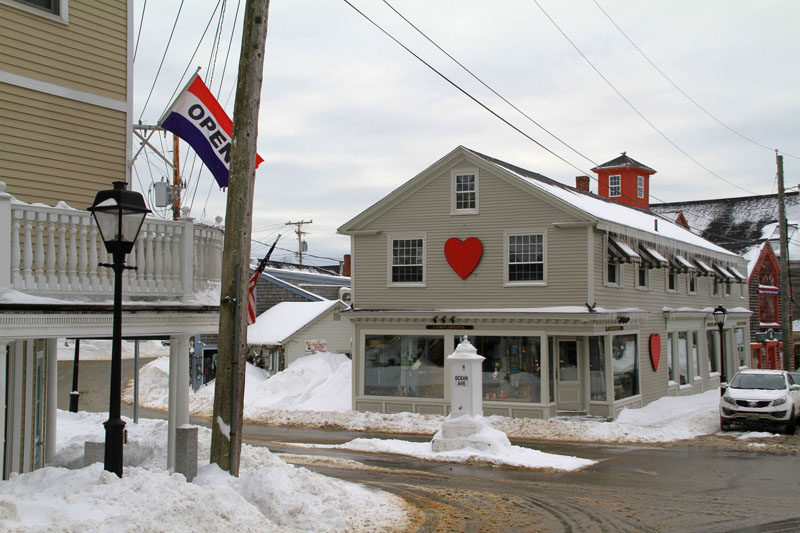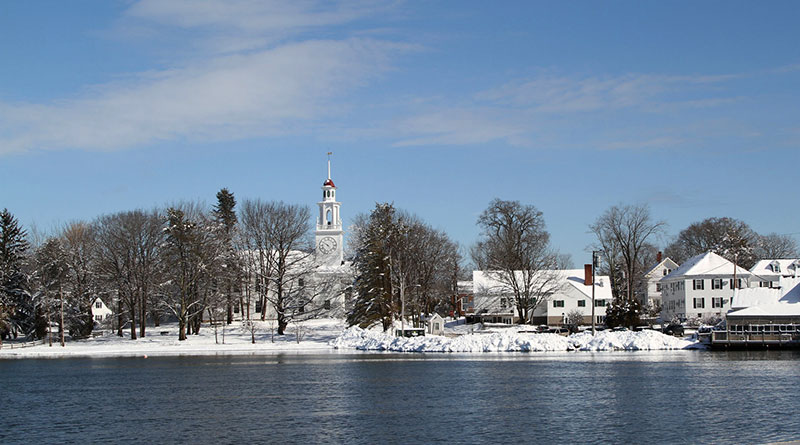 Christmas Prelude Kennebunkport Events
Kennebunkport Kennebunk Beach Maine